Discussion Starter
·
#1
·
I am putting this up for a good friend of mine as he has a lot of other things going on and really doesnt have the time for this one anymore.
What we have here ladies and gentlemen is a numbers matching 1964 Impala Super Sport Convertible.
The motor is sitting at 500 miles on a rebuild. Starts and runs perfect.
Factory single exhaust......tranny shifts and fuctions smooth and flawless.
Does have power steering and power top. Pump for top needs oil and I beleive it still works fine.
Top has no rips white in color...back plastic window is perfect. No cracks or tears.
Seats are actually in fairly decent shape some rips on the drivers side top corner if I recall correctly but others wise pretty decent for being original seats frm 1964!..lol
This car has everything......all chrome.......all pieces and everything to for an easy restore.
Now for the bad.............
It looks like the drivers rear quarter has had a little bit of work along the bottom edge and it does have some rust there so it may need replaced (?) I am no body man..the pictures can show it better than I can describe it.
It does look like there has beensome od body work done years ago.
The passenger quarter has a rust spot around the center of the wheel well.
And lastly......it does need the floor pans replaced on one or both sides but he does have a set of brand new pans just ever installed.
This car has the original factory SS hubcaps and wheels.The Ds are now off the car.
Over this car is
100% complete.
I hae seen some pretty screwy cornfield projects go for damn near $10K on here and Ebay before and this project is light years beyond those.
Remember this is a fully functional driving car.
He is asking $14.5k or BEST SERIOUS offer.
Car is located in Omaha, Nebraska.
Thanks for your time...............................................................................
*NOTE*...When I took these pics it was raining its ass off here there will be full pictures of her posted on Wendsday or so as that is the soonest weather break we are going to get.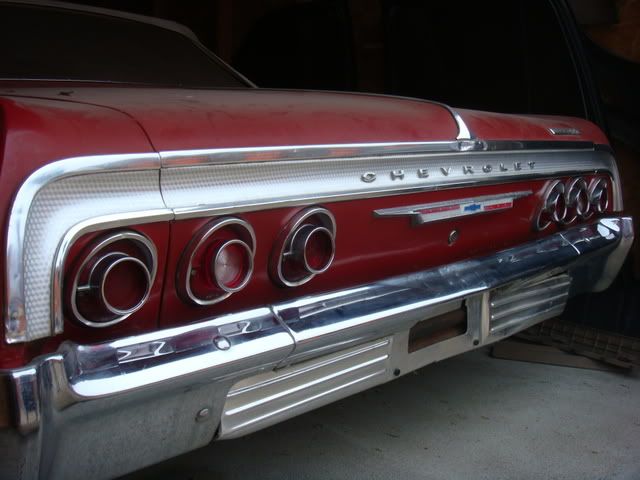 OK..here are a few pics of the quarters.....