Discussion Starter
·
#1
·
I know it's kind of cheesy to try to sell something as your first post, but I haven't had much luck selling my car at my regular forums (which I think is becuase of the heavily flaked paint).I dont' want to sell it really, but I'm in the process of buying a house and building a new shop so the toy has to go.
53 Ford customline, 66 mustang 289/ C4 (green dot), grenada rear end. Been rewired for 12 volts. New radiator. Motor has a Ford motorsports dress up kit on it that was on it when I snatched it from the stang'......Runs pretty damn good, it'd love to get a new intake w/4bbl carb though.
Body's been shaved for the most part, Lincoln pushbuttons allow you access to the car, 53 merc trim on the quarters. Cable used to open trunk for now. 56 olds tailights let the people behind ya know what your doin'. Headlights were frenched too. Expanded metal knob grille.
Metalflake paint job, Body's a 2002 Ford red, with 3 coats of red mini flake, and 2 coats of Fireball red colorchanging flake over that. Roof is Chromabase fleet white, with 4 coats of white pearl, and a few coats of abalone flake. It's not a show car, and still needs a little work, but its a damn cool daily driver and has won a couple of local shows and gets alot of attention whever it goes.
The only thing it really NEEDS is new door glass and window channels. Both sides are cracked but still roll up and down. Could use a little wiring work behind the dash, it's kinda sloppy. I'm been driving the car as my daily for almost a year.I'll let the pics do the talking from here on out. Ask any specific questions you have and I'll answer em for ya....anyway heres some pictures, but the pictures do not do the metalflake justice. Asking 13,500 obo, I'll consider partial trades for a pre-70's DRIVING project.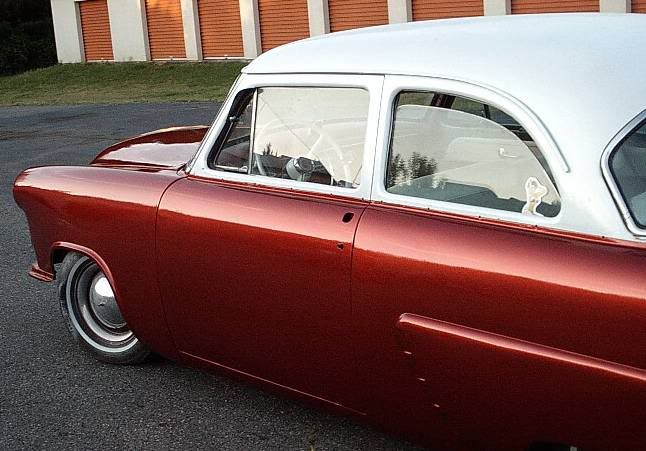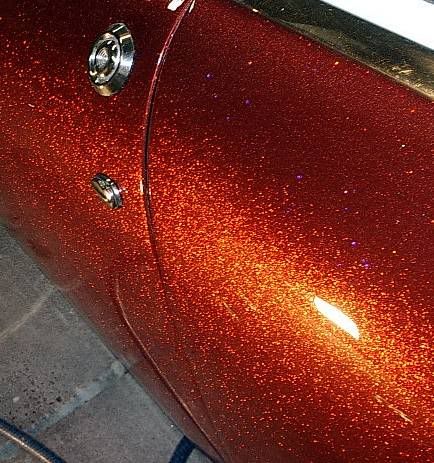 more pictures shortly.....