Discussion Starter
•
#1
•
here is a fiew shots ive got of my pumps.
just put in a new 4 pack of dekas also
alright - this is the pump/s that came with the car when I bought it. the blocks say ultimate on them. have not taken them apart to see the pumpheads inside yet. any one remember what company could of made this pump setup ? and, for some reason the dumps and solenoids and switch box is wired to the cars front battery - so the dumps are seeing 12v engine off and 14.4v engine running - along with the switches and solenoids.
weird I know
so here is a close up of my dumps. im curious if any one here can id them and also let me know if they are ok to run on 24v like everyone elses setup is, or if I can only keep sending them 12v - as thats what it says to use printed on dump.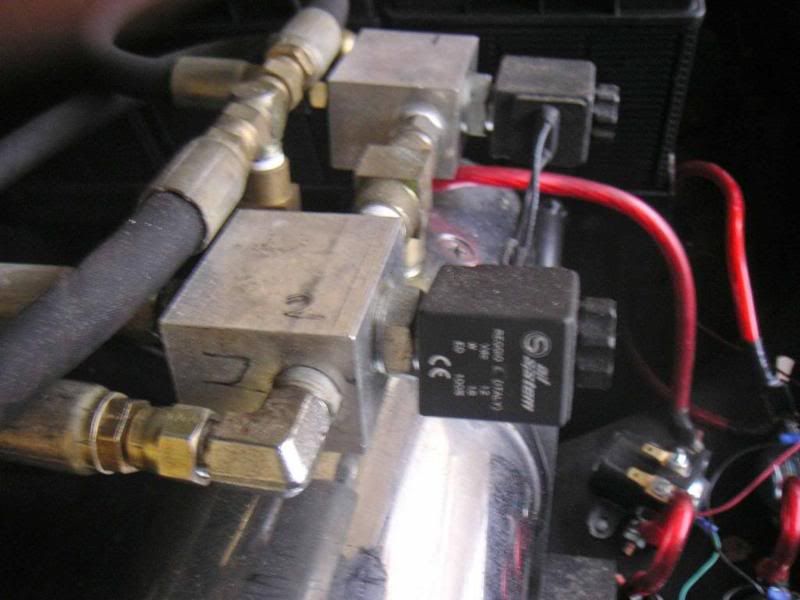 and I know this is the crappiest pic ever - my digi camra wouldnt auto focus for the life of me in the garage light. shitty pic again sorry,
ive looked around alot and have not seen any other cylinders that have this weird hex shape at the top of them. maby they are realley old / or just odd ball cylinders but id like to know if any one can id the company that made them.