Discussion Starter
•
#1
•
I bought this car right at the end of January of this year. Pretty unfamiliar site to most on here id say but very popular this side of the world. The car originally started off life as a 106 GTI which has roughly 130bhp from a 1600 16v engine. Not very impressive on paper but coupled with a very lightweight shell and very good handling they can be surprisingly quick.
However this GTI's engine was very sick and the car got a transplant to a 1.5 diesel engine with 57 wild bucking bronco's pulling it up the road haha. The car returns excellent MPG (50-60mpg)which was the reason for doing the conversion as the creator of the car drives a Porsche 997 so all he wanted was something economical. Fuel in the UK is extremely expensive 99p per litre! not per gallon!
After that the madness really began. John Peden the guy who built the car then went about making the car the most unique 106 in the UK. As you can see its pretty crazy (ok the ideas have been done before in some shape or form but trust me, over here it was revolutionary) with its Grafitti bonnet, Rubix cube centre caps and airbrushed interior.
The car is also on a Rayvern Hydraulic system which lets you have the ultra low stance that it has. The car actually sits down on the sills and touches the wheel arches. The car is also on 13" wheels 8" on the rear and 7" upfront. When i first seen the car and being such a huge fan of 106's i simply had to have it. Once it became available i snapped it up. Hydraulics are very much a new thing over here and more recently air ride so here its a MASSIVE novelty for everyone.
Since owning it i have had a wail of a time getting pointed at, laughed at, stared at and everything else - its very funny to see peoples expressions. People have followed me to just ask about the car, people come up and ask can they take photos and i get the "oh i spotted you on the way too...."
Anyway, enough jibba-jabbin here are some pics:
The magazine feature that was done on the car:
John Peden driving the car not me i wouldnt wear a hat like that, well at least not when someone is takng a photo
Cookie monster!
Rayvern Hydraulics
Too low?? NEVER!! haha
Apparently this Grafitti is on a wall somewhere and it was airbrushed here:
Excuse my stupid grin as this was the morning after i bought the car - i was having so much fun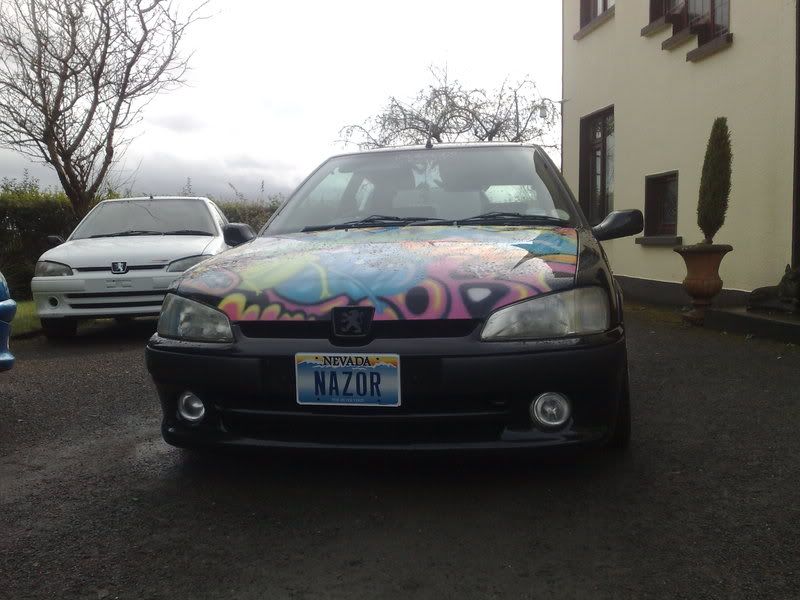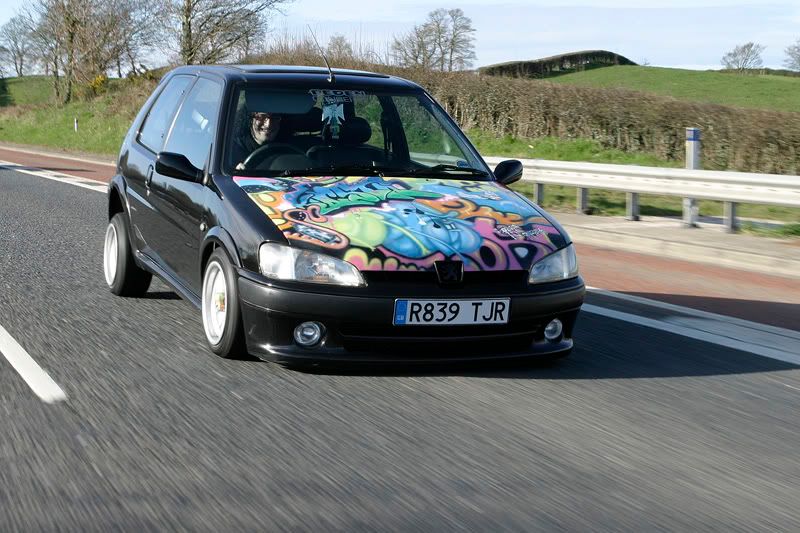 The lovely Elaine and Jennifer with Retrospectrum
If the car is too low simply raise the rear of the car to an acceptable level and fill
Below is a youtube video dedicated to my car - i filmed and edited it
http://www.youtube.com/watch?v=vSSmtq4oVWw
Dunno really how you guys will take it but i thought id share it anyway
Cheers for looking
Patrick